THE PMG MULTI-NOTE HOLDER
The Premier Presentation Option for Certified Notes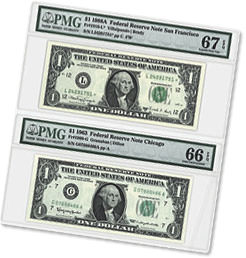 PMG's new multi-note holder opens up creative ways for you to showcase your bank note collection, your way. Think of it as getting all the benefits of the PMG holder, times two. Durable, heavy-gauge, high-quality inert material keeps out contaminants and preserves your notes for the long term. The label includes attribution, pedigree, and grade, and other important information.
In addition to giving your notes an added sense of security and consistency, the multi-note holder allows you to easily archive multi-subject sheets, compare and contrast several notes from different eras, or display your collection according to whatever criteria or structure you wish.
Trust PMG to provide you with accurate and consistent grading of paper money. For more information, contact PMG customer service at 1-877-PMG-5570 or e-mail service@pmgnotes.com.
Examples Sets
Changeover Pair
Front and Back Specimen Pair
Uncut Sheet
Consecutive Notes
Large Size National Sheet
Small Size National Sheet
Canadian Fractional Sheet
Custom Presentation
Scrip
Small Size
12-Note Sheet