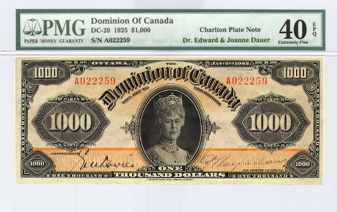 Front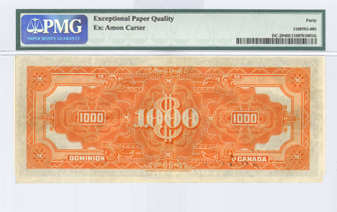 Back
Canada DC-29 1925 $1,000
In 1925 the Canadian Department of Finance issued new $500 and $1,000 notes and withdrew the 1911 issue notes.
These higher denomination notes were called bearer notes as they were inscribed with "Will pay to the bearer."
The face of the $1,000 note is black and orange and features the portrait of Queen Mary, the same portrait used on the $5 note. A number of typical design elements were omitted. Instead of the Finance Department seal, the note has a large denominational counter to the right of the portrait. The series letter was not engraved, but was used as a prefix to the serial number. And, there were no check numbers as the notes were numbered individually. The signature and countersignature were hand-signed in Ottawa.
The back design is printed in orange and consists of lathe work, counters and "The Dominion of Canada." A small imprint "Canadian Bank Note Company, Limited" is located at the bottom center on the face and back.
One 4/on plate was engraved for this series and only 30,000 notes were printed.
The printing of $1,000 notes was discontinued in 2000. The denomination was withdrawn on the advice of the Solicitor General and the Royal Canadian Mounted Police, as it was often used for money laundering. The Bank of Canada requested that financial institutions return any notes in their possession for destruction.
This EF 40 EPQ $1,000 note is from the Dauer Collection. To view a small selection of the Dauer's US notes, visit our gallery.